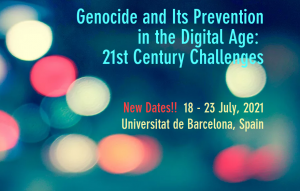 About
From the digitalization of archives that document genocide atrocities to the use of this technology in the capture and prosecution of perpetrators, the landscape of interdisciplinary genocide studies and genocide prevention is rapidly changing.
As the field of genocide studies has grown and diversified in the 21st century, the impact of digital technology has taken on increasing importance.
At the same time, the rise of social media and the world wide web have facilitated the propagation of hate and dissemination of genocidal and related ideologies.
Organizers
International Association of Genocide Scholars
University of Barcelona, Faculty of Law – Host Institution
Call for papers
Submission deadline: midnight (EST), January, 8, 2021